Captain's log, Stardate 1222000.1:35JST. Update #6.
Where did I leave off?
Okay, Saturday. Saturday I think we bummed around the house for a while. Probably until about 11:00, Lucas says. Then we went to Ginza on the happy subway. Ginza is a shopping-type district. My uncle needed to get some stuff, so we went there. I gotted some stuffage, too. We also went to a nifty Sony building thing. Like the one in Chicago, only niftier. The coolest thing there wasn't a Sony product though, it was a BMW Z8. There was some nifty Sony stuff, too.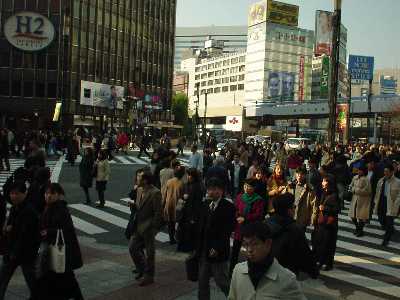 We ate lunch in Ginza, too. Some generic burger shop. It was alright, but so far the smallest hamburger patties I reckon I've seen in my life. But I did have my first teriyaki burger. Not bad, I rekun. Don't know what varmit they cooked it with, but it was good.
After Ginza, me and Lucas went back to the supermarket to pick up some yummage. Then we went on "Nathink and Lustink's Quest For Small Pyrotechnics". We found some in a toy shop and bought them, intending to use them that night.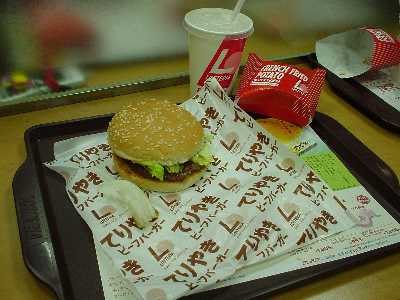 After that, we went out again to make copies for my aunt at a SunKus up the road. Then we went to another youth group function. We also meant to go to band practice, but Lucas thought it was at 5:00, Katie thought it was at 4:30, and after getting there through rush hour traffic at about 4:45, we found out it was at 4:00. But some of us still played on the instrum-nents. Yippee! That was nifty, but we were kind of loud. So I got this dull, nagging headache that remained with me for almost the rest of the night. But for the most part, I was able to ignore it.
It was kind of a Christmas banquet sort of thing. It was formal, with candles. But our table was able to make it quite informal, with the candles. (Sorry, Dale) We had a cheap gift exchange, where you draw the numbers and pick a present out from under the tree. There were about 70 numbers to go through (a lot of people showed up), and it took about an hour and a half. Towards the end, I was kind of in this weird sleepy-with-too-much-juice-and-dinner-rolls-and-a-nagging-headache-kind-of-bored-sleepy zone. There were a few items that kept getting stolen in sequence. The Hershey's bars, some boy band CD and green alligator/hippopatomus hybrid slippers. It was the girls who were fighting over that stuff. Just to clear up any misconceptions. It was kind of fun, and afterwards some of us got to jam together while Lucas's sister searched frantically for her mother's lasagna pan.
We walked home afterwards. Once outside and walking, my head sort of cleared up, but I was still kind of groggy. Lucas was tired too, so we didn't launch bottle rockets off his roof, yet. Tonight maybe.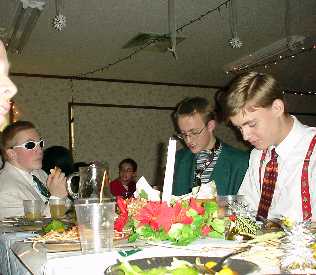 Oh yeah, I ended up with these brown tea heart thingies in a test tube of sorts. And a bag of flowery tissues. Nobody really wanted to steal them from me. Hmmmm.....
This morning we went to church again, and sunday school. Pretty nifty. Said goodbye to alot of my newfound friends. I hopefully will remember to e-mail.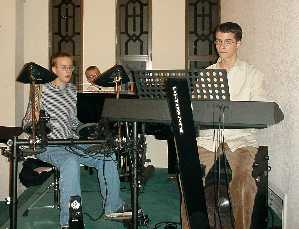 After church, we went to a Korean barbeque resturaunt. They had a little (emphasis on little) grill in the middle of each table, and you got to grill your own meat from the raw meat buffet. They also had fine fruits. Like kiwi halves. Mmmmmmm-mmmm! Yummage!
Which brings us to the present again, where nothing too exciting is happening. My uncle and aunt are having a party type thing for my uncle's church class at their house. Lucas and I are on Kitchen Duty. At least better than Little Cousin Patrol, but still kind of boring.
Capt. Nathan signing off.
Japan Update #7